WASHINGTON — A stampede of Central American migrants rushed to the tracks Saturday when the first whistle of the train rang out.
After a few days in Mexico City, it was time to continue their journey north to the US border. About 500 migrants traveling in a caravan climbed onto the freight train just outside the Mexican city of Tultitlán.
They were about 1,500 miles south of the US-Mexico border as they started heading northwest to the city of Celaya.
As the train slowed down, migrants scrambled around the train cars to find a way to climb aboard, throwing small bags of belongings onto the train and hastily helping one another.
Police and guards watched from a few feet away. Some took photos. None took action to stop the migrants as they climbed the train.
Gabriela Hernandez of Honduras handed her toddler to another migrant who pulled him up. Then, she pushed her 6-year-old boy up the ladder. When it was Hernandez's turn, the pregnant 27-year-old struggled to find the strength to pull herself onto the train.
With help from others, Hernandez swung her leg onto the top of the car only to find a massive pile of scrap metal and trash. She will have to sit on the pile for hours until she reaches the next destination. She grabbed her two boys tightly, sat on a blanket above the pile and sobbed as her two boys consoled her.
Hernandez said she is exhausted.
"It's difficult, but I will have to find the strength to carry on," she said.
Migrants on caravan climbed onto train to continue north. I've heard so many horrific stories of the violence they're fleeing in Central America. A mom showed me scars on her 6 yr old daughter's body. She was burned when gang set her home on fire. They want to seek asylum in US. pic.twitter.com/iCQ3wq7jOv

— Leyla Santiago (@leylasantiago) April 14, 2018

As migrants set makeshift tents with blankets to protect them from the dusty wind and scorching sun, people from the ground and a bridge above waved. Some tossed water and snacks. As the train pulled forward, one migrant yelled out, "Gracias Mexico!" ("Thank you Mexico!")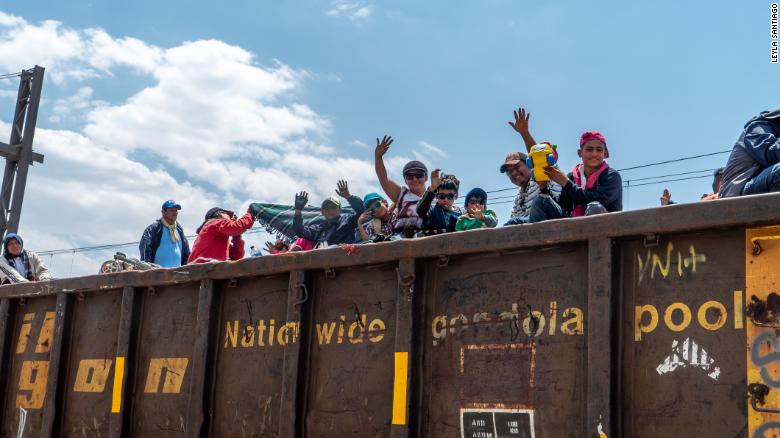 More than 1,100 people set on the journey across Mexico on March 25, but they have dispersed into smaller groups as they headed north, organizers said.
The government of Mexico has granted many of the migrants temporary permission to stay in the country. Most of the migrants agree Mexico has been a welcoming place. Police have escorted the caravan at times and stopped traffic to help the convoys stay together. Churches and shelters have opened their doors, providing food and a safe place to sleep. Some of the migrants have decided to stay in Mexico.
The migrants, most from Honduras, say they are fleeing violence and poverty. Honduras and El Salvador are among the countries with the highest homicide rates in the world.
A few days after the caravan launched its journey, US President Donald Trump warned on Twitter about "these big flows of people" heading to the US border and said they must be stopped.
Laura, who didn't want to share her name for fear that gangs in Honduras could track her down, said she takes offense to Trump's comments. She insisted the migrants are not dangerous, and that they are just families escaping violence.
She called for her daughter to show evidence of the violence she is fleeing in Honduras. Pulling the young girl's shirt over her shoulder to show the scars, she explained that the gang in her neighborhood set her house on fire last year. She managed to pull her three children out of the home, but not in time to save her daughter from the burns that have scarred her face, arms and stomach.
"I can't go back to Honduras," she said.
Laura said she doesn't know anyone in the United States but wants to reach the border to seek asylum. Like many of the families traveling with the caravan, she said she wants her children to attend school without having to worry about gangs, and she dreams of a better life for her family.