INDONESIA -- Police believe a husband, wife and their four children carried out the suicide attacks on three churches in Surabaya that left seven people dead, Indonesia's top cop said Sunday.
The attackers included two daughters aged 9 and 12 years old, said Head Gen. Tito Karnavian, the country's highest-ranking police official.
Earlier reports indicated at least 10 people died in the Sunday morning attacks, but Karnavian said during a news conference that seven victims were killed.
Forty-one people, including two police officers, were hospitalized with injuries, police spokesman Frans Barung Mangera said previously.
The six bombers also died, Karnavian said. Investigators believe they belong to Jamaah Ansharut Daulah, a terrorist group that lends its support to ISIS in Indonesia, the police general said.
Through its Amaq News Agency, ISIS claimed responsibility for what it called "martyrdom attacks" in the port city on the east coast of Java Island but provided no proof to substantiate its claim. Authorities have not confirmed the claim.
According to Karnavian's chronology of events, which doesn't line up with the sequence Mangera previously provided to the state-run Antara news agency, the father, identified as Dita Sopriyanto, drove a van to the Indonesian Christian Church and dropped off wife Puji Kuswat and their 9- and 12-year-old daughters.
The wife and daughters went inside and detonated a bomb, Karnavian said.
The father then drove the van to the Pentecost Central Church, where, from inside the vehicle, he detonated another bomb in front of the church.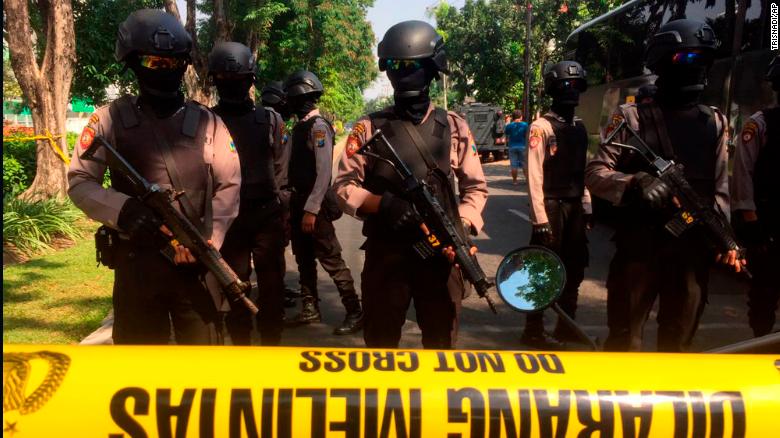 At the same time, the general said, Sopriyanto's sons drove motorcycles to Santa Maria Catholic Church, where they, too, detonated bombs. According to CCTV footage, the bomb at that church went off at 7:08 a.m. (8:08 p.m. ET Saturday).
Forensic evidence indicates the bombs were attached to the attackers' bodies, Karnavian said.
Police have closed all three locations as they investigate.
Pope prays for victims
Pope Francis prayed for the victims of the attacks during his weekly Sunday audience in St Peter's Square.
"Together we invoke the God of peace to cease these violent actions, and in the heart of all, find space not for hatred and violence but for reconciliation and fraternity," he said.
Indonesia's Foreign Minister Retno Marsudi tweeted condolences to the bombing victims with the hashtags #UnitedAgainstTerrorism and #WeAreNotAfraid.
Deepest condolences to the victims and families of the bombing victims in Surabaya.#UnitedAgainstTerrorism#WeAreNotAfraid

— Menteri Luar Negeri Republik Indonesia (@Menlu_RI) May 13, 2018
https://platform.twitter.com/widgets.js
The US Embassy in Jakarta condemned the attacks.
"These attacks on peaceful worshipers are an affront to the tolerance and diversity embraced by Indonesians. The United States stands with the people of Indonesia, and we offer our deepest condolences to the families of the victims," the statement read.
Terror attacks
Indonesia is the world's most populous Muslim country. More than 82% of its roughly 261 million people follow Islam. Almost 10% of the population is Christian.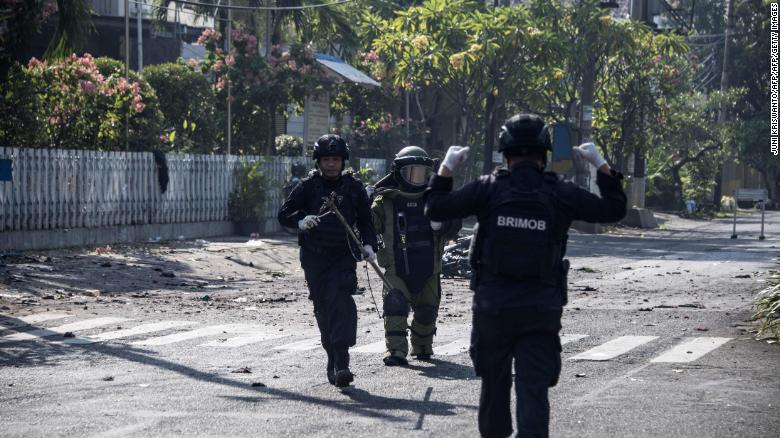 Indonesia has long struggled with domestic terrorist groups, particularly the al-Qaeda affiliated group Jemaah Islamiyah, which claimed responsibility for 11 attacks between 2000 and 2010, including the deadly 2002 Bali bombings that left more than 200 people dead and hundreds injured, many of them tourists.
In recent years, Indonesia has been confronting ISIS attempts to recruit members in the country.
In May 2017, two suicide bombers attacked a bus station in the capital, Jakarta, killing at least three police officers and wounding six officers and five civilians. Authorities suspect ISIS involvement.
In 2016, ISIS said it carried out a suicide bombing and shooting near a Starbucks in Jakarta. Two people were killed and 24 were wounded.
It was the first major attack in Jakarta since Jemaah Islamiyah's 2009 simultaneous attacks on the J.W. Marriott and Ritz Carlton hotels, which left seven people dead.