This is an archived article and the information in the article may be outdated. Please look at the time stamp on the story to see when it was last updated.
HOUSTON – For the better half of the 19th century, American dance music was dominated by jazz.  The distinct harmony of the sound, as well as the free-spirited nature of the music, jazz became a mainstream staple in American music in the early 1900s'.
Jazz originated in New Orleans during slavery. The French brought the Creoles to and they were allowed to live an upper class lifestyle.  During this time, the Creoles learned to play European instruments.  However, when the Jim Crow laws were enacted during Reconstruction, the Creole community was forced to live on the west side of New Orleans.  As a result, jazz was born out of this marriage of European instruments and African sound, particularly the blues.
Stemming from the humble field hollers of slavery, jazz has grown into a world-renowned musical art-form.  The evolution of jazz throughout the years has taken the art-form through many phases.  It transformed from the early days of Dixieland jazz into swing sound of the 1930s.  According to T.R. Reed, of Houston's Cafe' 4212, jazz also served as an outlet during a difficult time in American history.
"As we went through The Great Depression, there was a need to feel good.  People wanted to dance," says Reed. "So jazz slowly evolved into the swing era."
In 1988 jazz was declared an American Treasure by Congress. Many jazz greats like Jelly Roll Martin and Fats Waller are credited with transforming this musical art form, but there were no artist greater than the late Louis Armstrong.  Beloved around the world, Louis Armstrong  is one of the most influential musical artists in history.    Prior to Armstrong's emergence, everyone was playing the Dixieland style of jazz.  This style featured a collective improvisation where everyone soloed at once.  Armstrong perfected the improvised solo which later expanded to every artist playing a solo. This soon became the norm.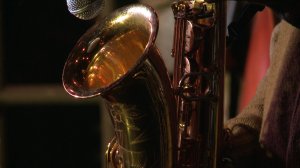 Today many artists, particularly in the African-American community, are working to keep this treasured art form alive.  That includes those in Houston, where Reed hosts Monday Night Jazz Jam at Cafe' 4212.
"This is the longest running show in Texas history.  This year we celebrate sixty-three years,"  says Reed.
"Monday nights in Texas is a night where barbers, beauticians, waiters, and musicians were off of work.  It was known as industry night.  And this is the premise of how all of this got started," he added.
Reed holds jazz close to his heart. "Jazz and history is a part of my culture.  It is a part of American culture.  And I think that we should keep it alive."
To learn more about Monday Night Jazz Jam at Cafe' 4212, please visit their website.