This is an archived article and the information in the article may be outdated. Please look at the time stamp on the story to see when it was last updated.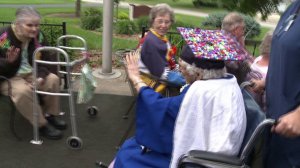 WHEATLAND, IA – High school graduation. For kids today, it's a normal part of growing up. But it hasn't always been this way.
Pearl Russ, of Wheatland, Iowa, can attest to that.
At 101-years young, she has waited a long time for her diploma.
"In those years, we just didn't do those things. We couldn't, cause the wages wasn't there, and my dad didn't get that much money," says Russ.
Back then, she only made it to eighth grade.
But now she's proud to say that she's marking this one off her bucket list.
All dressed up in her cap and gown, finally it was her time.
Russ received an honorary high school diploma to Calamus Wheatland High School.
Way to go, Pearl!
So folks, there you have it. Living proof that's it's never too late to achieve your dreams!