This is an archived article and the information in the article may be outdated. Please look at the time stamp on the story to see when it was last updated.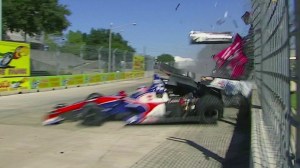 HOUSTON, TX – Houston's IndyCar grand prix race was big news this weekend, but not because of the race.
A spectacular crash in turn 5 on the last lap of Sunday's second race sent 3-time Indy 500 champ Dario Franchitti to the hospital and injured 13 spectators.
It all started when Franchitti tried to avoid hitting Takuma Sato who had lost control of his car. Sato was driving for Houston's A. J. Foyt racing.
The crash broke Franchitti's right ankle and fractured two vertebrae. He also had a concussion when he arrived at Memorial Hermann Texas Medical Center.
All but two of the spectators received treatment at Reliant Park. The other two ended up at the hospital with non-life threatening injuries. A race official was also injured.
A statement from IndyCar said their thoughts are with everyone injured. And they thanked the people of Houston for supporting the race and for showing concern for everyone hurt.
Franchitti and his wife Ashley Judd announced their separation in January after 11 years of marriage,
But Sunday, Judd tweeted that she was on her way to Houston with just her dogs and the clothes on her back.
Franchitti tweeted his best wishes for the injured fans and hoped that everyone was all right. And that's the finish line to this story.