This is an archived article and the information in the article may be outdated. Please look at the time stamp on the story to see when it was last updated.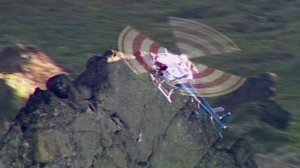 NORTHERN CALIFORNIA – A camping trip for two teens went horribly wrong.
Austin Dreschler, 16, and a friend were on a family camping trip when they decided to climb the Sierra Buttes mountain in Northern California. But as the two made their way up, they started to realize it was a one-way trip. The two got stuck at the top, facing winds of up to 30 miles per hour.
The California Highway Patrol was called, and after passing the boys about four times, they were able to lower harnesses to them. The boys attached them on and they were plucked off the top of the mountain.
Maybe on their next camping trip, they should just stick to roasting marshmallows.