This is an archived article and the information in the article may be outdated. Please look at the time stamp on the story to see when it was last updated.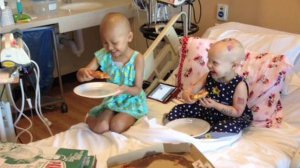 LOS ANGELES, CA – Hazel Hammersley's hospital room, in Los Angeles, was swamped with pizzas after her mother put a "SEND PIZZA RM 4112" sign in her window.
Hazel has been getting chemo for the past three months after being diagnosed with stage three neuroblastoma.
Hazel will have surgery in the next month to remove the mass wrapped around her adrenal gland.
Then hopefully — she can have a big pizza party at home!