This is an archived article and the information in the article may be outdated. Please look at the time stamp on the story to see when it was last updated.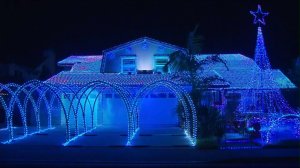 We all love Christmas lights and some people just can't get enough!
There's proof of that in the Christmas light videos on YouTube with upwards of ten million views.
A house in Fountain Valley, California is attracting live crowds.
The house is lit with more than 65 thousand lights – all synced to music of course!
While the kids love it, neighbors aren't necessarily overflowing with Christmas joy over the display.
The constant flashing lights…big crowds…just throw in some slot machines and you would have a little casino!
The owner of the house has been ticketed for the noise and keeps it down as the night goes on. As far as the flashing lights are concerned – let's just say there is no way Santa will be able to miss this house.