This is an archived article and the information in the article may be outdated. Please look at the time stamp on the story to see when it was last updated.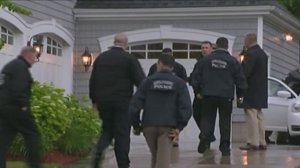 NORTH ATTLEBORO, MA – New England Patriots tight end, Aaron Hernandez, found himself in a tight spot after a dozen state police showed up at his up-scale house with a warrant in hand.
They questioned Hernandez for hours about a possible homicide. The victim was a supposed associate of his.
According to Sports Illustrated, the body of a 27-year-old man was found by a jogger in a clearing less than a mile from Hernandez's house; which is what led police to Hernandez even though he is not believed to be a suspect.
Police were also seen talking to 2 men as they attempted to drive from Hernandez's house. Minutes later, each was escorted away.
Hernandez was the fourth-round pick outta Florida in 2010 and just signed a five-year extension with the Patriots last summer for a reported $40 million.
Good thing, he may need to hire an expensive lawyer.
Oh, and Hernandez played college ball with Tim Tebow who is now his fellow teammate. Maybe he can say a little prayer for Hernandez.