This is an archived article and the information in the article may be outdated. Please look at the time stamp on the story to see when it was last updated.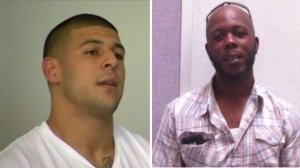 ATTLEBORO, MA – Aaron Hernandez is waiting to go to trial for the murder of his friend Odin Llyod. And while it seems all odds are against Hernandez, the American Civil Liberties Union is stepping up as a lone group in his corner.
The ACLU is concerned about Hernandez being placed in solitary confinement. Hernandez is in protective custody because he's considered a high profile, but eh ACLU thinks otherwise.
You know that whole innocent before proven guilty thing? Well, the ACLU says being in solitary confinement is a form of punishment and torture. In a blog post, the ACLU wrote:
'…while awaiting trial, he has been locked alone in a small room with little or no human interaction for over 20 hours a day.'
And with Hernandez being denied bail, it could be months until he goes to trial.
Now while things are at a stand-still with Hernandez, things are moving along for Ernest Wallace. He was in court and arraigned on a charge of accessory to murder after the fact. He'll be held without bail pending a July 22nd pre-trial hearing. Authorities believe Wallace helped Hernandez in the murder.