This is an archived article and the information in the article may be outdated. Please look at the time stamp on the story to see when it was last updated.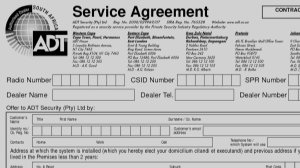 HOUSTON, TX – A security company left some security contracts not so, well, secure!
When an ADT truck was leaving a Houston neighborhood, a witness says contracts for 8 Houston residents fell off the back.
These contracts usually contain everything from your credit card number to possibly your social security number-definitely not things you want lying in the street.
ADT describes the occurrence as an, "isolated incident," and said that they just want to, "…help ensure the safety and security of our customers` homes and businesses, and we take protecting their personal information very seriously."
The documents are being returned to the customers and ADT says they have opened an investigation and are looking into the matter.
While they say they take it very seriously, we're not sure that leaving some personal info on the ground is taking things seriously…but we'll give them the benefit of the doubt.