This is an archived article and the information in the article may be outdated. Please look at the time stamp on the story to see when it was last updated.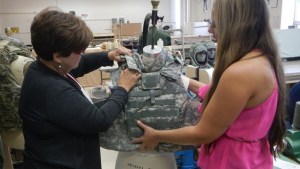 WASHINGTON, DC – Somewhere, out there, lurking among the produce at the local farmers market, hides some purdy dangerous hombres, criminals that may require killin'.
We've already told you how the U.S. Agriculture Department's Office of Inspector General wants to buy 40-calibre sub-machine guns with front and rear tritium night sights and a 30-round mags.
Now, it seems they also need some bullet-proof vests.
They're looking for an unspecified number of Level III-A ballistic resistance tactical vests, if anyone's interested.
The federal farm folks are also in the market for other forms of ammo. The Forest Service, which is part of the Ag Department, wants 45,000 rounds for its southwest region headquartered in Albuquerque, New Mexico.
The Ag Department's Animal and Plant Health Inspection Service needs 100,000 rounds of HEVI-shot, Dead Coyote, 12-guage, 00 buckshot, with half of the shells going to the San Antonio office.
And the Veterans Administration says it needs 80,000, 9MM rounds, with 10,000 of them to be hollow points.
Conspiracy nuts might think the need for hollow points at the VA has something to do with the congressional probe into reports of deadly wait lists at VA hospitals.
But that would be as crazy as shooting yourself in your bullet proof vest to see if it worked.
Who would do that?