This is an archived article and the information in the article may be outdated. Please look at the time stamp on the story to see when it was last updated.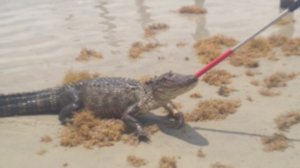 GALVESTON, TX – Playing in Galveston's murky waters is enough to make even the bravest swimmers a little nervous. But it's not Jaws that you have to worry about. Now you can add "alligators" to your list of reasons to stick on the shore.
Vanessa Chapelle and her husband were swimming in the gulf over the weekend when, just like out of a movie, an alligator swum up beside them.
Luckily, no one was injured. Beach police along with animal rescue showed up to nab the gutsy gator. He was released into a marsh near Brazoria County with undoubtedly one big tail to tell.