This is an archived article and the information in the article may be outdated. Please look at the time stamp on the story to see when it was last updated.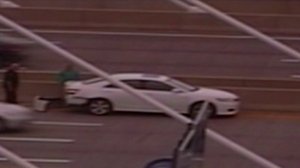 BOSTON, MA – The Star Spangled Banner is an eye-opening song, but it's subject, the American flag, had other plans on a bridge in Boston.
The 30 x 40 foot flag on the Zakim Bridge was put up by the State Department of Transportation for the 4th of July.
Video captured the flag breaking free and falling on to Val Demchev's car.
Demchev said he managed to avoid other drivers, but he did spin out and hit a median which scraped up the front of his Toyota Camry and caused the back bumper to fall off.
The State Department is looking into the incident and are said to be debating whether or not to put up another flag.