This is an archived article and the information in the article may be outdated. Please look at the time stamp on the story to see when it was last updated.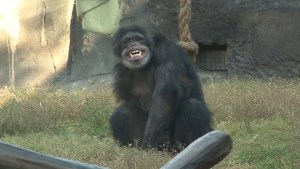 HOUSTON, TX – Six new chimpanzees make their public debut at the Houston Zoo. It's one of the chimps, Sierra's, 14th birthday party and every person knows with good parties comes good conversation.
A lawsuit filed by the group non human rights project asks New York's supreme court to declare chimpanzees as legal persons and have the same rights as you and I. The group wants the court to declare that a pet chimp named Tommy is being illegally imprisoned, saying chimps possess complex cognitive abilities just like humans, and should be treated like people. The lawsuit accuses Tommy's owner of holding him captive against his will. Asking that Tommy to be moved to an animal sanctuary.
Tommy's owner, however, says he saved Tommy from being badly treated and has giving him a good home. In the wake of 2 other lawsuits filed recently; medical authorities re-examine the use of chimpanzees in medical research now that new technology that makes animal testing less necessary.
But any animal handled so directly by humans; is sanctuary a good idea?
In the meantime, the new Houston Zoo occupants are surviving just fine and these chimps are real party animals.