This is an archived article and the information in the article may be outdated. Please look at the time stamp on the story to see when it was last updated.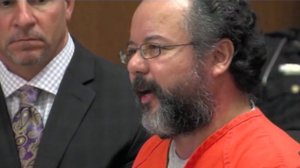 CLEVELAND, OH – Ariel Castro has a long prison stay ahead.  A Cleveland judge sentenced him on Thursday, after one of Castro's victims, Michelle Knight, read an impassioned statement.
'The death penalty would be so much easier. You don't deserve that. You deserve to spend life in prison,' she said.
Knight is one of three women Castro admits to have kidnapped and held captive for about a decade.  She's the only one who wanted to speak for herself in court.
But Castro spoke as well. He insisted he is not a monster, but 'sick,' "I just hope they can find it in their hearts to forgive me."
The judge did not take sympathy. Castro was sentenced to life in prison plus one thousand years.