This is an archived article and the information in the article may be outdated. Please look at the time stamp on the story to see when it was last updated.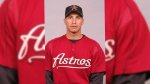 HOUSTON, TX – After 18 seasons in Major League Baseball, New York Yankee and former Astros pitcher, Andrew Pettitte says that this season is his last. The Deer Park native played for the Astros from 2004 to 2006 and helped lead the team to two playoff runs and a National League championship in 2005, so it's only fitting that he play his last game here in the Bayou City.
"Obviously, the three years I spent here were great, the club that we had, it was just great," Pettitte said. "And then an opportunity for all my family and friends to be here, because you know, everyone couldn't make it up to New York, so this is going to be really, really special for me.
It's been a great run for Pettitte, no doubt. He's won five World Series championships with the Yankees, is a three-time all star, and he's also ranked highest in Major League Baseball's post-season wins, with 19.
That Andy Pettitte is a true class act, a real ball player's pitcher, and a guy who will always love the game. For most, he's remembered for wearing the pinstripes, but for us in the Space City, he'll always be an Astro.