This is an archived article and the information in the article may be outdated. Please look at the time stamp on the story to see when it was last updated.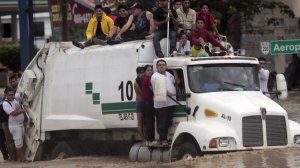 ACAPULCO, MEXICO – Elvis may have had some swinging good fun in Acapulco, but today, there's trouble in paradise.
At least 55 people are dead in Mexico after Hurricane Ingrid and Tropical Storm Manuel tagged teamed the country with high winds and heavy rains that caused wide spread flooding and destruction.
As many as 60,000 tourists cannot get out of Acapulco, which normally would not be such a bad thing. A lot of the city is without drinkable water or electricity.
The tourists were in town to celebrate Diez y Seis, Mexican Independence Day on September 16.
Emergency and rescue crews are trying to open the highways and airport, and to take food and water to the 800,000 residents of the city.
Mexico's President Enrique Pena Nieto toured the city and offered whatever help his government could provide.
He's also asked members of his cabinet to coordinate rescue and relief efforts in other parts of the country where more than a million people have been affected.
Although the two storms have dissipated, the rain continues to fall and to bring misery large parts of Mexico.