This is an archived article and the information in the article may be outdated. Please look at the time stamp on the story to see when it was last updated.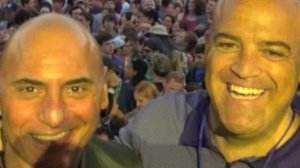 ATLANTA, GA – A couple of knuckle head morning DJ's from Atlanta are jobless today thanks to their big yappers.
Yep, if you haven't already heard, they guys at 790, The Zone took things a little too far while discussing Steve Gleason's recent article for Sports Illustrated, which, because of his debilitating disease, A.L.S, he had to write using eyesight dictation.
They pretended that Steve Gleason called in and asked him questions; most of the answers were in the form of knock-knock jokes. Here's a little sample:
"Knock-knock…. Who's there? Smother. Smother who? Smother me."
Gleason, before his diagnosis of A.L.S, was known as the safety with the New Orleans Saints who blocked the Falcons' punt to win the Super Bowl back in '06, the same year Katrina ravaged New Orleans.
The long and short of it is that these guys thought it'd be funny to have a laugh at someone else expense; looks like the jokes them.