This is an archived article and the information in the article may be outdated. Please look at the time stamp on the story to see when it was last updated.
HOUSTON, TX - Houston has more Mexican restaurants than one person could ever visit. Many proudly prepare food in the style of Tex-Mex, but others stick more to native roots. Now, don't go taking this as a queso bash, but there's something special about that authentic flavor. In this case authentic Mexico City flavor, which is what Cuhcara is all about.
"Mexico City cuisine is a lot more vivid in color, a lot of Mexican food, I would say about 80 percent of it is mostly vegetarian, so it's completely different than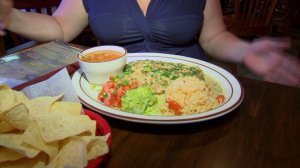 what the Texas view of what Mexican food is., and so we love to embody and really represent what a true Mexican kitchen has to offer," explains Cuchara manager Oscar Tamez-Garza.
So what does Cuchara consider a true mexican kitchen? One filled with madres.
"It's a kitchen full of moms. There are no men working in the kitchen. There's no executive chef, it's just a collaboration of the owner's culinary background and the cooks and their teamwork... Honestly we all know that moms cook best, so we love to offer that to our clients and offer that story, that it's just moms in the kitchen, it's just what you would eat in our home in Mexico," says Tamez-Garza.
While Cuchara values its moms, the Montrose restaurant knows how to celebrate dads, which is why they're rolling out a south-of-the-border specialty for Father's Day this weekend. The cooks will prepare a whole sampling of Baracoa dishes from different meats, and they've even made arrangements to have fresh iguana for the cooks to prepare on Father's Day. It doesn't get more authentic than that.
So, come join them Sunday if you're looking to wow dad's taste buds. Or, if iguana isn't for you, you'll be just as impressed with the more familiar menu items. Whatever you do, don't miss out on this true taste of Mexico City.