This is an archived article and the information in the article may be outdated. Please look at the time stamp on the story to see when it was last updated.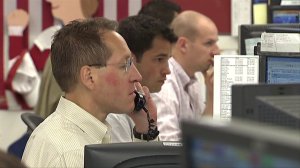 HOUSTON, TX – Hey, good news! The average American worker made $1,000 a week in the last quarter of 2012, up almost 5% from 2011.
In most metro areas salaries went up, according to the Bureau of Labor Statistics.
San Francisco, at the top of the chart, showed an average salary growth of nearly 25%. The average weekly salary there is $1,706.
But several cities aren't so fortunate and saw a reduction in weekly pay. Anniston-Oxford, Alabama, at the bottom of the chart, saw a 2.4% decline with an average weekly wage being $743
So who's seeing these thousand dollar a week salaries?
Oleg Dyunov, shopping in the Galleria area, said, "I think it's much lower than $1,000 a week. Maybe about $1,500 or $1,700 for two weeks, that would give us about 800 bucks."
Sam Hewitt took a more cynical approach, "You know what the old saying goes: statistics don't lie but liars use statistics. How about that?"
Houston didn't make either extreme high or low, so we're hoping that means we're doing OK.