This is an archived article and the information in the article may be outdated. Please look at the time stamp on the story to see when it was last updated.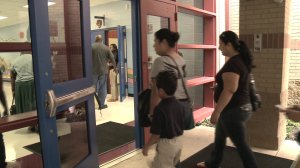 HOUSTON, TX – All good things must come to an end, especially summer vacation! It's back to school for Houston students and despite the rains clouds; many returning kids had a sunny disposition. But of course, a kindergartener on their first day of school might see things differently.
Houston Independent School District is the largest school district in Texas and got even larger after annexing schools from the North Forest School District. HISD superintendent Terry Grier was at Thurgood Marshall Elementary on the first day of the new regime. Then he stopped by Baylor College of Medicine Academy, a new magnet middle school that focuses on science and technology.
So despite the anxious little faces and some tears; these kids are in good hands on their first day of school. Let's hope they make the most out of their education.