This is an archived article and the information in the article may be outdated. Please look at the time stamp on the story to see when it was last updated.
HOUSTON – If you like, comfort food and Southern hospitality, you should check out The Barbecue Inn, just off Crosstimbers and Yale in the Greater Heights area.
The restaurant was founded in 1946 by Louis and Nell Skrehot. 1946! That was one year after World War II ended."My father decided to give this a try and he started out with just barbecue and beer" explains owner Wayne Skrehot.
For 70 years, this family owned restaurant has been delighting customers with their delicious home-style cooking, southern hospitality and great service. Their customers are loyal and call it a "landmark" and "an institution".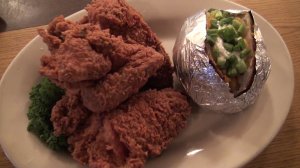 If you're wondering what's the best entrée… well, it depends on who you ask. Some say fried chicken or chicken fried steak, but the owner tell us, "Everything's good!" And he ain't lying.
Chew on this, the most popular entrée at The BBQ Inn isn't barbecue, it's fried shrimp. "The fried shrimp has been the best seller for 35 years" says co-owner, David Skrehot, Wayne's son. "It's done in a milk batter. It's done with flour and milk and some other things I can't tell you about" he jokes. David also reveals, "we make our own red sauce and tartar sauce."
The chicken fried steak is the second most popular entrée, and an online food blog just named it one of the best in Texas. "It's our recipe. It's tender enough that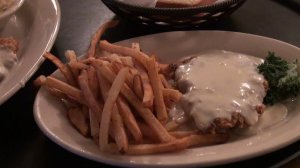 you can cut it with a fork. We have a gravy like no one else has, that's according to our customers" say the younger Skrehot. And while that combo is extremely yummy, the fried chicken is OUT.OF.THIS.WORLD. So of course, we wanted to know how they make it. "No I'm not going to tell you. You have to come here and try it" he laughs.
By the way, no heat lamps here. They don't cook your chicken until you order it, so be prepared to wait 25-30 minutes. It's worth the wait say every customer we asked.
If you want BBQ, don't worry, they've got plenty… like mouth-watering ribs. David Skrehot tells us, "We use a dry rub on the ribs. It's a little spicy and a little sweet. And then we slow smoke those over a period of time." "Look how big and tender they are" exclaims one diner.
Customer Cecily Lane best describes the food at the Barbecue Inn, "It's food like your grandma made… if your grandma was a great cook."
If you like a warm, charming atmosphere, fantastic food and superb service, treat yourself to lunch or dinner at the Barbecue Inn.