Baseball Hall of Fame injustice
This is an archived article and the information in the article may be outdated. Please look at the time stamp on the story to see when it was last updated.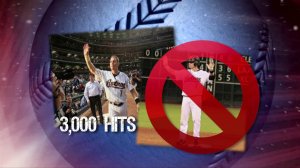 HOUSTON, TX – It's an injustice that's just as bad as Houston not getting a shuttle. Astro's legend Craig Biggio didn't get voted into the baseball Hall of Fame in his first year of eligibility. The star player had a 3000 hit career.
Biggio got 68% of eligible votes. He was 39 votes short of election.
All around voting was a bust. For the first time since 1996, no one got into the Hall of Fame in this year's balloting. Jeff Bagwell, in his second year of eligibility, got 57% of the vote. Roger Clemens got 37% and Barry Bonds got 36%. 75% is required.
This is only the eighth time since 1936 that no one has been voted in.