This is an archived article and the information in the article may be outdated. Please look at the time stamp on the story to see when it was last updated.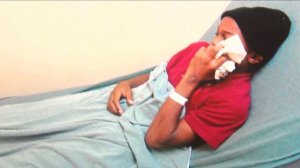 BEAUMONT, TX – Maybe it's a strike against arming teachers with guns.
Reginald Wells, a 7th grade student in Beaumont, Texas,  says he stopped in the hallway on Friday to chat with an assistant teacher and joke about his favorite football team.
But then: "All of a sudden he just hit me in my shoulder," says Wells.
Wells is 80 pounds and 12-years-old. After the brush, he says he pushed the teacher's shoulder. And that's when things really got nasty. Wells got blind-sighted, and knocked out. His mom was briefed based on what another teacher saw.
"He said Reginald was punched in the shoulder, and then hit two times and uppercut, and then slid across the floor," Adrianne describes.
The teacher was reportedly fired on the spot. But still Reginald's mom says that's not enough.
She has filed a report, and wants to press charges.