This is an archived article and the information in the article may be outdated. Please look at the time stamp on the story to see when it was last updated.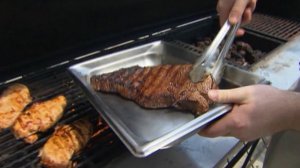 HOUSTON, TX – Your next Texans tailgate might run into a major roadblock this summer. Retail beef prices are at an all-time high — $5.30 a pound.  Wholesale beef went up, too — 24 cents a pound.
It's so bad, McDonald's is dropping their one-third pound Angus Burgers from their menu along with the Angus Wraps.  Instead they seem to be adopting Chick-fil-A's "Eat Mor Chikin" slogan and putting the hard sell on their new chicken wraps (They're pretty good, by the way).
But back to beef– why have the prices gone so high this year?  I mean, it's not like we had a Mad Cow scare like back in 2003. That was the previous price peak.
Joe Tribunella, general manager at Grill Masters Meat Co. in Houston, explains, "We've had a pretty good serious drought this past year in the Midwest, and what that has done is drive feed costs up."
That drought and a late freeze also led to the smallest cattle herds since 1952. And fewer cows means less beef. Plus corn prices have doubled since demand for ethanol's gone up as a gas alternative.
So what's this mean to you? Well, besides fewer menu options at Micky D's, you can expect prices to go up in other restaurants, and probably a lot more chicken on the grill at that next tailgate.
"If you order a beef tenderloin, it's almost a hundred bucks for an entire tenderloin," says Alex Watts, a chef who runs a catering business with her husband. "It's ridiculous!"
Ronny Merida has noticed the price jump at his local meat market: "I used to pay like $3.99 for one pound of fajita (meat) and now it's almost over $5."
Jason Rung says, "I haven't bought beef in a long time. I usually stick to chicken and fish."
Janel Williams says she's switched to a lower-priced grocery store to combat the price hikes, "It's only chicken now. No more beef."
If the prices keep rising and folks keep cutting back, the Beef Council may have to change their famous slogan to "Beef… it's what's not for dinner!"