This is an archived article and the information in the article may be outdated. Please look at the time stamp on the story to see when it was last updated.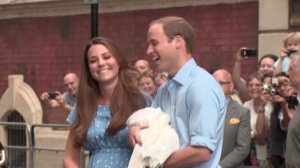 HOUSTON, TX – All bets point to the world getting its first glimpse of the Prince of Cambridge.
If you said today, you're a winner.
But bet you can't name the future heir to the British throne. Britons are stacking the betting lines to do whatever they can to get involved. You know, the whole we're all obsessed with the royal family thing.
Ladbrokes booked 50,000 bets regarding the name of the royal infant within hours of his birth.
Betting agency Coral says, "This jolly well is the biggest non sporting-betting events in this bloody companies history."
Topping the list, George at 2 to 1 odds, second James at 4 to 1 odds and rounding out the top three is Alexander at 7 to 1 odds.
Think the newest royal parents will take a cue from Kimya? North is also on the list with whopping 5000 to 1 odds.
Some blokes took to Twitter with suggestions:
@thefatjew tweets the only way i care is if they name it Joffrey.

Outback steakhouse chirped prince bloomin onion, perfect.

Our personal favorite is from @ikebarinholtz…prince gangam style, harlem shake, sharknado windsor.
Bets are also on the baby boys hair color and who could have bet Niagara Falls would have turned blue in honor of the prince.
Paddy power says they're even taking bets on what color aunt Pippa will wear when she visits; hey that kind of proves one theory. Somehow it all comes back to Pippa.