This is an archived article and the information in the article may be outdated. Please look at the time stamp on the story to see when it was last updated.
HOUSTON, Tx. – There's no doubt #7 is number one with Houston baseball fans, but will Craig Biggio's admission into the Hall of Fame translate to a financial grand slam? Robert DeNeefe of Sports Collectibles of Houston thinks so saying, "He'll be more in demand and if you're in demand, your price goes up."
While the price for Biggio's personal appearances may have increased, not all of his collectibles have. Last week, a collection of Biggio's rookie cards at Sports Collectibles of Houston went for $9.95, and today's going price was $9.95. Now, that might sound confusing but the reason is as plain as a double off the wall. "His items have gone up probably in the last 10 years already because he was such a great player and people knew he would be in the Hall of Fame," says DeNeefe.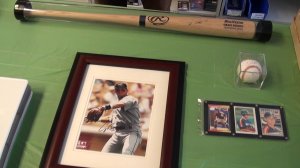 Fan and collector Sean Johnson already has some Biggio items but can't imagine selling anything. He says,  "I guess more the value is special to me than anything."
There is one thing that would increase the price of all Biggio memorabilia says DeNeefe, "If he decided for whatever reason that he didn't want to sign many more things then yes, the existing ones would go up."
Hopefully, Houston's Hall-of-Famer won't "sign out" anytime soon.