This is an archived article and the information in the article may be outdated. Please look at the time stamp on the story to see when it was last updated.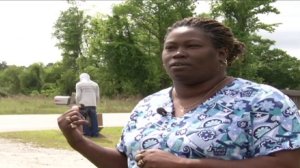 NEW BERN, NC – A North Carolina mom is making sure her son doesn't get any freebees. Rhonda Hill's 15-year-old son got suspended from school for fighting, but instead of letting him sit around the house for 10 days, she sent him outside to work the streets.
"So for the remainder of his time out of school, you'll see him out here, standing by the mailbox every day. Rain or shine," Hill said.
The punishment for the high school freshman was tough. Every day, from 6am until 3pm, he had to stand at the foot of his family's driveway, holding a sign that read: "Hi my name is William. I don't like staying in school, so this is what I'm going to do for a living… get a good look at me, cause you will see me again in the future with another sign saying, 'I will work for food.'"
Whether the punishment will change William's behavior remains to be seen. But at the very least, we can think of one job he's now qualified for. You know, the Liberty Tax wavers?!