This is an archived article and the information in the article may be outdated. Please look at the time stamp on the story to see when it was last updated.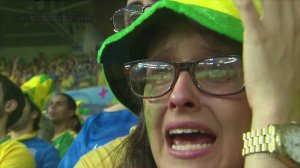 BELO HORIZONTE, BRAZIL – Brazil hosting the World Cup made sense. People practically see the sport as a religion in the host country.
So, when team Brazil took the field against the Germans in Tuesday's semifinals, they probably weren't expecting the Germans would score Over, and over, and over again.
When the losing started, so did the tears. Brazil fans were left in disbelief as the team that hasn't been beaten at home since 1975 watched any hope of a sixth World Cup crown go right out the window, losing 7-1 in their own house.
If there's one thing Brazilians can take solace in, however, it's knowing fans in the Bayou City know a thing or two about taking a hard loss at home (thanks to the Houston Texans).
A 14-game losing streak is nothing to shake a stick at!