This is an archived article and the information in the article may be outdated. Please look at the time stamp on the story to see when it was last updated.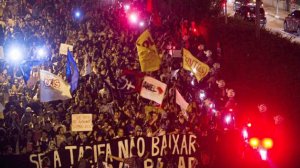 SAO PAULO, BRAZIL – Hundreds of protestors in Sao Paulo destroyed city property, lit buses on fire, even beat police men all because the city raised the fare for public transportation.
At least 25 people were arrested and dozens more went toe to toe with officers who finally got the crowd to disperse with tear gas.
The fare went from the U.S. equivalent of $2.75 to $2.95.
From the looks of it, we were expecting at least a five buck increase!