This is an archived article and the information in the article may be outdated. Please look at the time stamp on the story to see when it was last updated.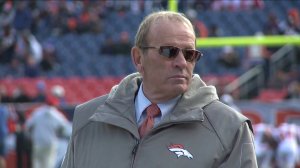 DENVER, CO – Pat Bowlen, the Denver Broncos owner who won two Super Bowls and oversaw one of the NFL's most consistently competitive franchises, has given up control of the team after 30 years to continue his battle of Alzheimer's disease.
Joe Ellis, the Broncos' team president since 2011, will take over the day-to-day operations of the team.
The longtime owner's stake in the team was placed in the Pat Bowlen trust. The idea is for one of his seven children to eventually take over.
The team is not expected to be up for sale.
Bowlen leaves behind quite the legacy. Last year he became the first owner to reach 300 victories by his 30th season.
And under Bowlen the Broncos have only had five losing seasons.
One thing's for sure, Bowlen's a fighter and has full support as he battles this health opponent.