This is an archived article and the information in the article may be outdated. Please look at the time stamp on the story to see when it was last updated.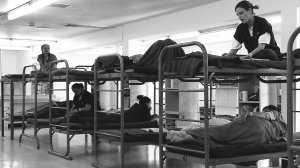 CRESCENT CITY, CA – This may be a long, hot summer for California prison officials.
This week, 30,000 inmates went on a hunger strike that could end up being the largest prison protest in California history.
The food fight has been in the works for several months, and even has its own website.
The strike was planned by a small group of inmates held in solitary confinement at Pelican Bay State Prison, the maximum security prison near the Oregon border.
Some of them have been in solitary for more than twenty years. Prison officials say the inmates are connected to prison gangs.
Pelican prisoners started a hunger strike in 2011, with more than 11,600 prisoners taking part.
This latest hunger strike comes right after a report from the Center for Investigative Reporting charging that California prison doctors sterilized 148 female inmates from 2006 to 2010.
The report says the women did not know it was happening, and prison officials did not follow protocols.
The center says it has evidence of many as 100 other female prisoners illegally sterilized going back to the 1990s.