This is an archived article and the information in the article may be outdated. Please look at the time stamp on the story to see when it was last updated.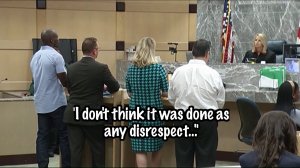 BROWARD COUNTY, FL – Butt slappin' is all part of the game of football. But the sportsman-like gesture is meant for the field, not the courtroom.
Former NFL star Chad "Ochocinco" Johnson didn't get that memo when he appeared in court for a probation violation in his domestic violence case.
Everything was good to go. A deal was reached calling for community service instead of jail time.
Judge Kathleen McHugh asked if he was satisfied with the assistance of his attorney, to which Johnson replied, "He's awesome."
He should have just left it at that.
Instead, Johnson slapped his attorney on his butt.
The courtroom erupted with laughter, but Judge McHugh didn't think it was funny.
She said, "Mr. Johnson, I don't know that you're taking this whole thing seriously. I just saw you slap your attorney on the backside."
Johnson's attorney came to his defense, saying "I don't think it was done as any disrespect…"
But it wasn't enough to keep Johnson a free man.
Judge McHugh did not accept the plea negotiations. Johnson has to spend 30 days in jail.
Chad Johnson might have been a big football star, but this judge doesn't play games.