This is an archived article and the information in the article may be outdated. Please look at the time stamp on the story to see when it was last updated.
DALLAS -- If you have a body, then you probably don't need us to tell you that it's cold outside. But there are some cool ways we can show you!
It's so cold that bubbles froze in Virginia. The lady who snapped a really neat photo (as seen in the video) says temperatures there were around five degrees when she got the shot.
Even down in Florida things are pretty nippy. On Satellite Beach, animal rescuers worked all night to save 19 manatees who got stuck in a storm drain in their search for warmer water (they had to cut open the pipes and air-lift the big guys out).
From the sea to space, images of all this weather are really, well, cool! NASA released some cold-looking pictures of three icy Great Lakes (Lakes Ontario and Michigan are also partially covered).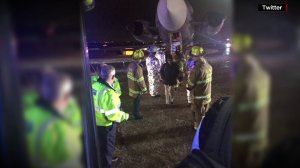 Anyway, back here in Texas, Dallas has been getting whipped by a wintry mix. That's likely to blame for an American Airlines flight skidding off the taxiway Monday night. All 68 passengers and crew had to evacuate from the emergency exit. That's just part of the travel treachery to our north.