This is an archived article and the information in the article may be outdated. Please look at the time stamp on the story to see when it was last updated.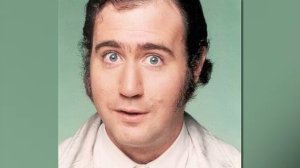 NEW YORK, NY – What happens when you mix Andy Kaufman with Elvis? You get a legend that may or may not be dead or alive.
For those too young or too stoned to remember, Andy Kaufman could be called the Sasha Baron Cohen of the 70s and 80s, a comedian who built a career with zany characters and punking his audience.
Kaufman officially died of lung cancer in 1984, but stories keep surfacing that he faked his death.
The annual Andy Kaufman Awards earlier this month became the latest venue to keep the Andy Kaufman is alive story alive.
The Comic's Comic apparently was the first site to carry the story of Kaufman's brother Michael explaining how he recently learned Andy is alive, married, and has a daughter.
And, of course, she just happened to be in the audience and ended up on stage to verify that yes, her dad's alive, and, yes, she's his daughter, and to offer an explanation for what happened: "He just wanted to be a stay-at-home dad, you know. Because, that's why he wanted to leave the show-biz, whatever. And so, he's pretty much a great dad, and raised us, and my mom has her own business and stuff like that, and he helps her with that kind of thing, paperwork and stuff that he can work from home."
Of course, if Kaufman is alive, it would be one of the biggest comebacks in entertainment history, and a case of a performer, literally, upstaging himself.