This is an archived article and the information in the article may be outdated. Please look at the time stamp on the story to see when it was last updated.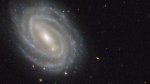 Check this baby out.  NASA's Hubble Telescope snapped a picture of an amazing galaxy.
The galaxy's in the Serpent Constellation, and is named PGC 54493. Could've come up with something better for an amazing scientific-spectacle, don't ya think?
Seems ironic that the galaxy shows up the same weekend a newly-discovered asteroid's zipping by the face of our planet. Don't ya think?