This is an archived article and the information in the article may be outdated. Please look at the time stamp on the story to see when it was last updated.
HOUSTON — The Houston Food Bank is hosting a drive to deliver much needed help to families and individuals still being impacting by the devastating aftermath of Hurricane Harvey. Cox Media Group Houston has partnered with Houston Food Bank to help those victims.
Here you'll find all the information need to donate, volunteer or receive assitance.
Make a Donation
Click here to donate online or text "Harvey17" to 414-44.
Curbside Drop-off 
535 Portwall St.
Houston, Texas 77019
8 a.m. – 6 p.m.
Volunteer Sign-Up
Click here to register as a Houston Food Bank volunteer.
Contact the Volunteer Services Hotline at 713-547-8604
Need Help?
If you're in need of assistance, food or other supplies, please call 832-369-9390.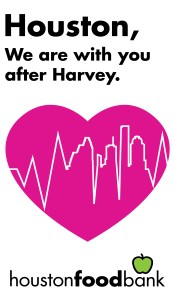 "I applaud every relief agency in the Houston area that is helping individuals and families with basic needs," said CMG VP and Market Manager, Mark Krieschen. "We are proud to partner with the Houston Food Bank to help people affected by Harvey. Together, our efforts will provide food and supplies to our neighbors throughout our listening area who struggle to rebuild their lives."
The New 93Q, Country Legends 97.1 and 106.9 & 107.5 Houston's Eagle  will broadcast live from the Houston Food Bank on Tuesday to help raise donations and gather supplies from the community. The CW 39 Houston and NewsFix's Grego and Morning Dose's Maggie Flecknoe will also be joining in.
"Getting the word out to the community on the most effective ways to help those impacted by Hurricane Harvey is crucial to recovery, and we appreciate Cox Media Group for helping to do just that, said President and CEO of Houston Food Bank Brian Greene. "Their support and partnership, especially in this challenging time, will help so many of our neighbors in need. Together, we are stronger. Thanks, Cox Media Group!"