Critter News: An eagle lands on an MLB pitcher, a smoking elephant in India, and much more!
This is an archived article and the information in the article may be outdated. Please look at the time stamp on the story to see when it was last updated.
MINNEAPOLIS, Minn. - The eagle has landed! Well, sort of.....but not exactly where he was supposed to land.
During the National Anthem in Minneapolis at a  Seattle Mariners-Minnesota Twins game, our national bird went a little bonkers harassing and flying around Mariners pitcher James Paxton!
The pitcher played along, except he seemed to get some ruffled feathers. To make matters worse, Paxton hails from Canada, so maybe the eagle just didn't like him.
Paxton was featured in a commercial this season where he's hiding some eggs under his cap. So maybe this was a bird's idea of revenge?
Oh well, at least Paxton can say he was touched by an eagle!
It isn't every day you see a smoking elephant!
Nature researchers in India were baffled by this surveillance video of an elephant eating some charcoal and then apparently exhaling it. The wild Asian elephant lives in a national park where she spends her time rummaging for food and other things.
Well, that charcoal must taste pretty good because she appears to be smiling. That's not blowing smoke!
Then a Chihuahua in Kansas City set a world record by giving birth to 11 Chihuahua puppies!
The pooch is named 'Laugh Out Loud,' but she probably didn't laugh at this litter of pups....with 10 named after rock stars.
And LOL and her litter will all be available for adoption in a few weeks from a KC shelter. Talk about puppy power!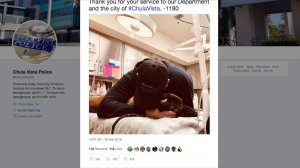 Finally, a picture's worth a thousand words-- and this snapshot of a heartfelt goodbye from a California cop to his dying K-9 partner says it all.
K-9 Griffen, a seven-year-old Belgian Malinois, faithfully served his community until a sudden medical condition took him down.
His partner,  Officer Chancellor, was at his side when Griffen passed away.
Fellow officers offered a final salute saying, "On behalf of all the women and men at the Chula Vista Police Department, thank you Griffen for your service. You will be missed."