This is an archived article and the information in the article may be outdated. Please look at the time stamp on the story to see when it was last updated.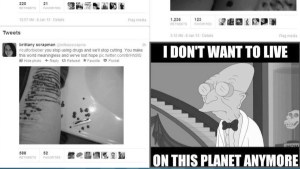 WORLD – Whether it's a scary intervention or just the worst hashtag ever. The #CutForBieber tag trending on Twitter is pretty sick.
It started trending after photos were published of 'the biebs' smoking what looked like weed.
The hoax supposedly generated on a popular message board.
After this message was posted: "tweet a bunch of pics of people cutting themselves and claim we did it because Bieber was smoking weed"
And what followed were wicked tweets posted on the Facebook page of 4chan.
Trust us, it was pretty sick stuff.
But it turns out, the pictures are all fake; which is a good thing.
But Justin chimed in with his own tweet to his 'beliebers,' letting them know his legal team is on it.
He told his fans, "'don't cut or harm yourself in any ways please."
And he's not the only one seeing red over this.
Miley Cyrus retweeted that "cutting is not something to joke about."
And no amount of weed smoking can make it funny.