This is an archived article and the information in the article may be outdated. Please look at the time stamp on the story to see when it was last updated.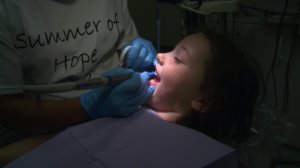 HOUSTON, TX – When you're down on your luck, a trip to the dentist's office is often the last thing on your mind. That's why Dr. Phyllis Morgan opened her doors to folks from the Star of Hope Transitional Living Center.
14 kids took a bus ride with their moms to her Stella Link office to get free checkups, X-rays and cleanings.
"It's not about the money. It's about the service that we can give back to the community," explains Dr. Morgan, who's done similar free days in her community for the last years. "A toothache can change your life, and it's not fair because of the circumstances that maybe the kids live under that they can't afford to go to the dentist."
Mom of five Leboria has been living at Star of Hope for a year and was thrilled she could bring her kids to get much-needed checkups, "Just the generosity of Dr. Morgan reminds me of the goodness of people… keeps me with hope that there's help out there."
Letia Williams has been at Star of Hope for three months and says she's so thankful Dr. Morgan would do this for her daughter Zakyaa, "For me, to get my teeth cleaned it's like $80, and I don't have that money to give to do those things, so I'm very grateful and I appreciate it."
6-year-old Sara, a Star of Hope resident for just three weeks, has never had a checkup before, so we thought this might be fun for her, but she had her doubts, saying, "No it won't. I expect it to not be."
But her hygienist changed her mind, explaining each step and tickling her into giggle fits with the rotating brush as she polished her teeth.
Scott Arthur, with Star of Hope, says by offering free dental care, this dentist "is giving these people hope and letting them know that there's somebody out there that does care about them, regardless of their situation."
Dr. Phyllis Morgan and the Star of Hope; bringing smiles to little faces and hope for better days ahead.