Derek Boogaard's family sues NHL
This is an archived article and the information in the article may be outdated. Please look at the time stamp on the story to see when it was last updated.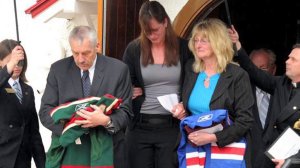 CHICAGO, IL – The Boogieman's family is coming back to haunt the National Hockey League.
On the anniversary of his death, it was announced Derek Boogaard's family has filed a 'wrongful death lawsuit' against the NHL. Boogaard, who played for the Aeros, Minnesota Wild and New York Rangers, died in from an accidental overdose in 2011.
His family claims the NHL is responsible for the physical trauma and brain damage Boogaard suffered during his 6 year career as an 'enforcer.' That's not difficult to believe since his job was to fight and he was very good at his job.
The lawsuit also claims Boogaard was given prescription pain, meds, shots and sleeping pills to deal with his many injuries, but the NHL substance abuse program failed to monitor his drug dependency. The NHL declined to comment on the lawsuit.
Until they do, it looks like this battle has gone to an intermission.