This is an archived article and the information in the article may be outdated. Please look at the time stamp on the story to see when it was last updated.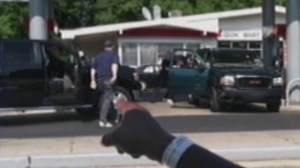 DETROIT, MI – Detroit City, home to Lions and Tigers and Pistons and bankruptcy.
Now, Detroit may be home to cops moonlighting as robbers.
Detroit citizens have been complaining about guys dressed up like cops turning out to be robbers, like at one gas station where customers said cops robbed them of money and at least one cell phone.
A by-stander took some pictures and sent them to Detroit news outlets. A cop investigating the robbery recognized one of the bad guys as a police sergeant.
After that, it was bust city for the sergeant and another cop from a nearby town.
"The actions of a few should not detract from the thousands of diligent, hard-working, men and women who wear this uniform and serve the city of Detroit," said police chief James Craig at a news conference to announce the arrest of the unnamed suspects waiting for formal charges.
Meanwhile, Detroit police have other continuing looking into other incidents of guys dressed up like cops and robbing people.
We know times are tough in Detroit, but aren't cops supposed to be the good guys everywhere?