This is an archived article and the information in the article may be outdated. Please look at the time stamp on the story to see when it was last updated.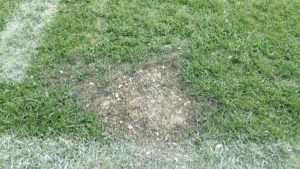 AUBURN, AL – Some say, the Alabama Auburn game at Jordan-Hare Stadium was the greatest football game ever played. That's a good thing since one diehard fan will spend eternity there.
The Auburn Turf Team Tweeted a photo of cremated remains scattered on the field in the post-game celebrations. It's a mystery who the ash and bone fragments belong to but it's not the first time ashes have been scattered there.
Where would you want your ashes to be scattered the Grand Canyon? Space? The Houstonians we checked with had a variety of answers including: the ocean, a golf course and West Texas.
Sadly, Michelle Shepherd's sister will have to make that decision.  Shepherd, an Alabama fan, was gunned down at a party outside Birmingham because she wasn't upset 'Bama lost. If that's not crazy enough, Cade Foster, the kicker who kept the Tide from Rolling over the Tigers, has been receiving death threats via Twitter.  Foster didn't miss the field goal attempt that was run back- his back up missed that one; but Foster did miss 3 others. Randy Bullock is lucky he plays in Houston.