This is an archived article and the information in the article may be outdated. Please look at the time stamp on the story to see when it was last updated.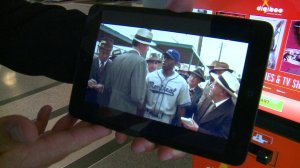 HOUSTON, TX – Running late for that long business trip? Chances are you forgot to download "Pacific Rim" off the Pirate Bay torrent site. (For the record: NewsFix does not condone illegal downloading but we do have 'friends' who enjoy it.)
Anyway, you're facing a long flight flick-less, and you can't stream Hulu on the plane unless there's WiFi, which is way too expensive. So what do you do?
Fear not– your boo's gotcha covered. Not "that" boo– Digi-boo! The new company's installed bright orange downloading kiosks at both Hobby and Bush airports. They each hold more than 800 movies and TV shows, including those CW shows you might have missed. (Seriously– "Carrie Diaries"  is pretty good, ya'll.)
Digiboo has all the latest digital releases and with a quick credit card swipe, so can you– right on your tablet or iPhone. How is it different from other sites downloads?
Blake Thomas, Digiboo Chief Marketing Officer, explains, "Over the internet, it could take as long as real time…two hours to get a movie, especially in an environment like an airport. With Digiboo, you'll have that movie in five minutes."  Bring a USB drive, and the time's cut down to just 30 seconds!
Houston's one of the first cities where these Digi-booths have popped up.
Thomas says, "We picked Houston because it's a large city, but also because the technical sophistication and the adoption of technology is high here."
And for you folks worried about data limits, fuggedaboutit! You download directly from the kiosk with no effect to your data plan at all.
So next time you find yourself in the airport after a sad goodbye and want something to take your mind off it, maybe try Digiboo. It might just send your mood soaring sky high!