This is an archived article and the information in the article may be outdated. Please look at the time stamp on the story to see when it was last updated.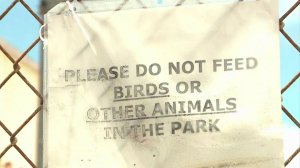 KAILUA, HI – Duck, duck…poop! City officials have been forced to close a Kailua District Park community pool, in Hawaii, after ducks keep pooping in it. Recently the pool was closed for four days.
Now the city is trying to get rid of the poopetrators.
Michele Nekota, the Parks and Recreation Dept. Director says, "What we're trying to do is we're trying to put in flotation devices and flags and those type of things that make a lot of noise so hopefully we've been pretty successful in the past to try to get them away from the pool area."
Hopefully they fix this stinky situation soon. Nobody wants to take a dip in doo.