This is an archived article and the information in the article may be outdated. Please look at the time stamp on the story to see when it was last updated.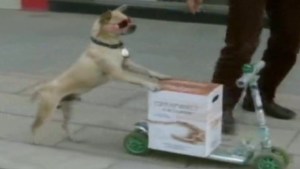 QUJING CITY, CHINA – Duo Duo has become a local celebrity in his Southwest China community.
The 2-year-old mutt been delighting audiences with his riding and jumping skills for a while now.
His owner said Duo Duo is a quick learner that gets rewarded every time he completes his stunts.
So it seems it's a win-win for Duo Duo.