This is an archived article and the information in the article may be outdated. Please look at the time stamp on the story to see when it was last updated.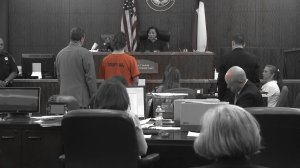 HOUSTON, TX – The man accused of stabbing 14 people on the Cy-Fair campus of Lone Star College will remain in the Mental Health Unit of the Harris County Jail.
Dylan Quick was arraigned on three charges of Aggravated Assault. It was his first appearance before a judge since the April 9th incident.
Defense attorney Jules Laird admitted, "I don't want him out of jail at this point."Laird went on to say he is working on getting a doctor to evaluate his client.
Court records describe Quick as a troubled 20-year-old-with fantasies about things like necrophilia and cannibalism.
Police say Quick used a scalpel and an X-Acto knife to attack his victims.