This is an archived article and the information in the article may be outdated. Please look at the time stamp on the story to see when it was last updated.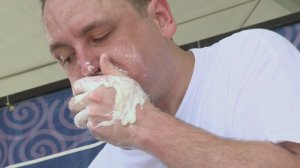 HOUSTON, TX – No room for that no meat stuff here. A stoned cold group of Major League Eaters trying to take down as many of these gyros as they can at the 2013 Niko Niko's Gyro Eating Competition.
Here's the kicker, they only have 10 minutes to do it.
The winner?  Joey Chestnut from San Jose, CA; he's the Lebron James of speed eating!
Hats off to all who competed, anyone who's had a gyro knows that after a mere one you're full. Let alone 22.