This is an archived article and the information in the article may be outdated. Please look at the time stamp on the story to see when it was last updated.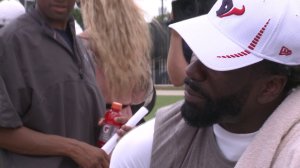 HOUSTON, TX – Football season is just a few months away. Just as the Texans' mini-camp started, there's an Ed Reed sighting!
Reed had hip surgery in April and since then it's been hard to 'read' between the lines when it comes to Ed's recovery. At first Reed said he'd be ready for the, "later part of the season…when the team would really need him."
Then Reed's tune changed a bit saying if he could, "…walk, talk and run — he'd be out there week-one."
Tuesday, however, when Reed was asked if he'd be ready for the season-opener, he gave a really lame answer. Reed said, "… there's really no timeline…" and he's continuing the rehabilitation process.
No timeline?
Actually, Mr. Reed there's a very specific timeline. September 9th, 2013 at 9:20pm, That's the Texans first game. You should really try to make it.